Regular price
Sale price
$70.00 USD
Unit price
per
Sale
Sold out
Dew Dream Spray Serum instantly hydrates, smooths, and tightens the skin by combining the effects of a toner, serum, and essence into one must-have multitasker. Dew Dream is a plant-packed 3-in-1 facial treatment that works from morning to night (and day after day). Featuring a dual hyaluronic blend, free-radical-fighting polyphenols, and a soothing complex that gently exfoliates, Dew Dream delivers a daily surge of nutrients and hydration in one simple step.

Fragrance-Free, Cruelty-Free, Unisex, Vegetarian, Made in Canada.
DIRECTIONS

Spritz 3-4 pumps into palms, rub hands together, and apply to clean face and neck. Use in the morning and evening as the first step in your routine.

Follow with Inner Glow and sunscreen for daytime use.
SKIN BENEFITS

Dew Dream does it all with its Dual-Hyaluronic Complex of both low and high molecular weight hyaluronic acid. The lower weight easily penetrates the skin to repair dehydration over time, while the higher weight sits on the surface of the skin to instantly hydrate and plump.

The Soothing Complex features anti-inflammatory properties, evens, tones and firms the skin while reducing and preventing breakouts. The Willow Bark acts as a sloughing agent to exfoliate dead skin cells, clear pores and reveal a radiant complexion.

The Antioxidant Blend features tea extracts and Ginkgo Biloba, which function as free radical scavengers to inhibit oxidation to prevent damage to the skin. Featuring Pearl, local Ontario Honey, Elderflower and Jasmine you'll want to add this to your to-dew list.
INGREDIENTS

Salix alba (White Willow) Bark Extract

Acts as a sloughing agent to exfoliate dead skin cells and clear pores - revealing a radiant, clear complexion. The tannins work as an astringent to help tone and tighten pores making them less obvious.

Rosa Damascena (Rose) Flower Distillate

This powerful petal is a strong antioxidant, soothes skin irritations, reduces redness and is antibacterial. It has potential lipid peroxidation inhibitory effects which means very powerful cell protection. It also has a high moisture content, making it hydrating, balances sebum and tones the skin.

Aloe Barbadensis (Aloe Leaf) Juice

Contains vitamins A, B and C, antioxidants, enzymes, proteins, folic and fatty acids, and triglycerides. It is highly anti-inflammatory and can help to treat burns, superficial acne and dry skin.

Honey

Honey naturally balances bacteria on the skin, making it a powerful match to acne prone skin. It also speeds up the skin cells' healing processes, making blemishes or eczema outbreaks easier to erase. This natural exfoliant removes dry, dull skin to reveal new skin cells underneath. Honey also has the ability to slow down accelerated signs of aging in the skin. Our honey is sourced from a 4th generation beekeeper in Ontario. They harvest 100% pure Ontario honey and are committed to sustainable beekeeping and green operations.

Pearl Powder

Pearls are rich in amino acids, calcium and trace minerals. Amino acids stimulate skin cells to produce collagen, promote cellular repair and delivers hydration, all while protecting the skin from pollution and outside elements. Calcium promotes the skins' regeneration, moisture, and regulates sebum and cell turnover.

Aqua (Deionized Water), Aloe Barbadensis (Aloe Leaf) Juice, Rosa Damascena (Rose) Flower Distillate, Glycerin, Hamamelis Virginiana (Witch Hazel) Water, Sodium Hyaluronate, Citrus Aurantium Dulcis (Orange) Flower Extract, Calendula officinalis (Calendula) Flower Extract, Matricaria Recutita (Chamomile) Flower Extract, Rosa Damascena (Rose) Flower Extract, Salix alba (White Willow) Bark Extract, Sambucus Nigra (Elder) Flower Extract, Trifolium Pratense (Red Clover) Extract, Gingko Biloba Leaf Extract, Olea europaea (Olive) Leaf Extract, Aspalathus linearis (Rooibos) Leaf Extract, Camellia sinesis (White Tea) Leaf Extract, Camellia sinensis (Green Tea) Leaf Extract, Jasminum Officinale (Jasmin) Flower Oil, Pearl Powder, Citrus Limon (Lemon) Fruit Oil, Honey, Denatured Alcohol
View full details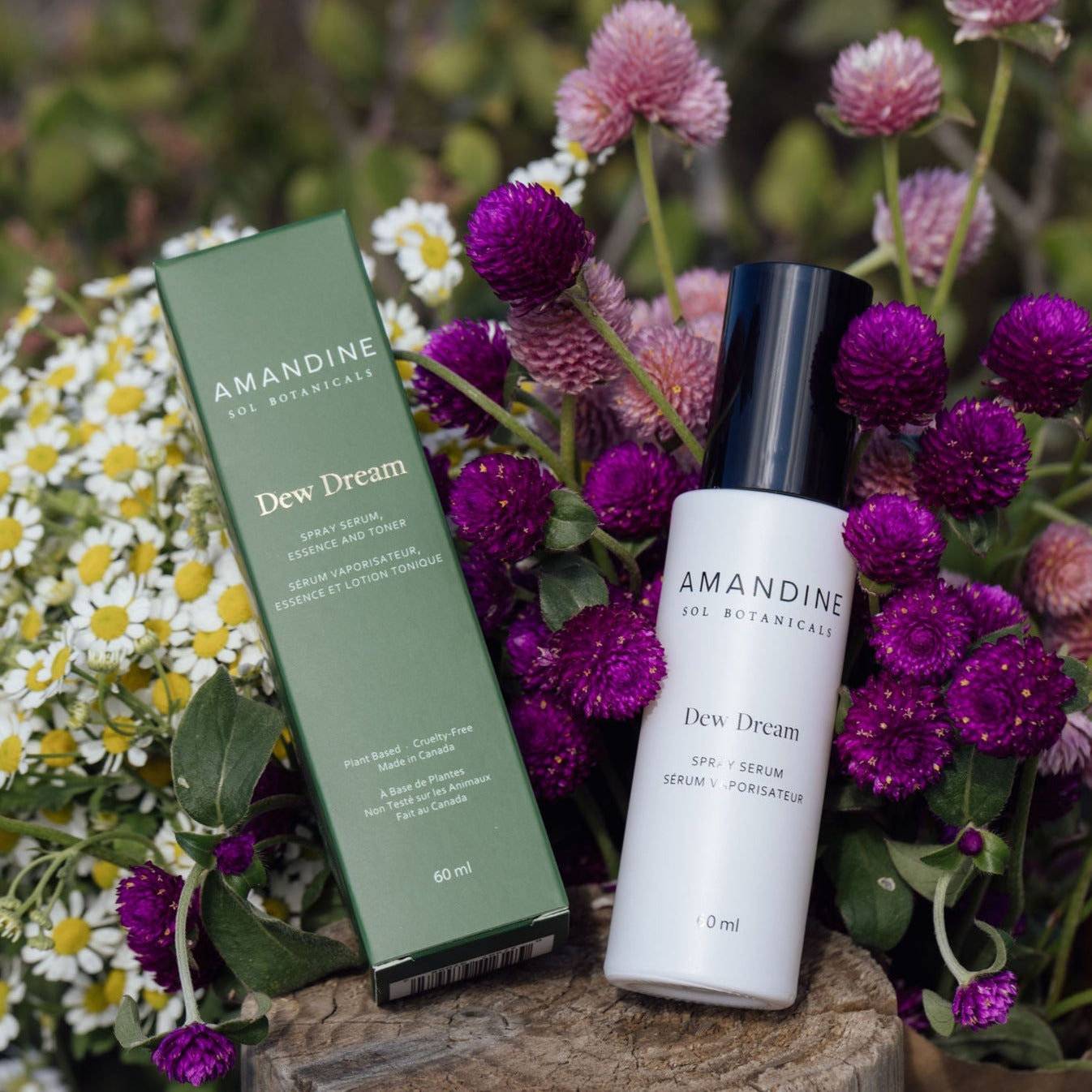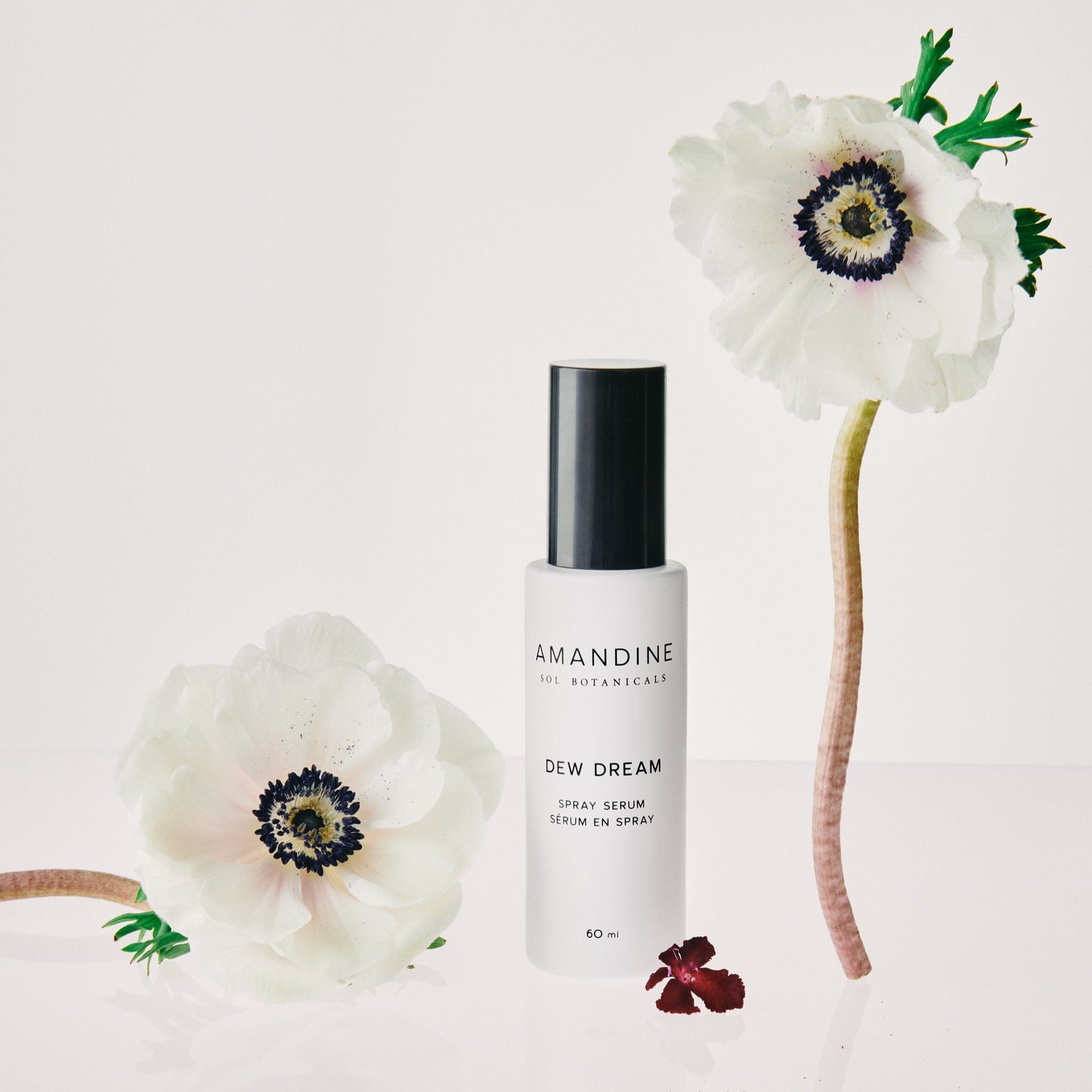 AMANDINE'S TIPS
Dew Dream truly is my dream product and I love learning new ways of applying it for maximum efficiency. For my every day I use Dew Dream as the first product in my routine, followed by Inner Glow, sunscreen, and makeup, then I spray Dew Dream on at the very end to refresh my skin and bring back that dewy glow. One of the most incredible makeup meets skincare hacks is to dampen your beauty blender with Dew Dream instead of water - this makes your makeup apply flawlessly to the skin and delivers a beautiful luminosity at every level. You can also mix a few sprays into your favourite full coverage foundation to turn it into a skin tint with skincare superpowers!
Skin Type
Oily, dry, acne prone, sensitive.
Feels like
Silken, weightless, milky.
Smells like
Fresh citrus: orange peel, jasmine and rose.
Simplify your skincare routine. Add this step here:
CLEANSE
SERUM
CREAM
OIL
SPF
Dew Dream!
LOVE this product! So light and refreshing! Perfection!
Liquid Gold
Love the Dew Dream spray serum. It's so light and makes my skin feel dewy, just like the name.
Dew Dream
Wanted to love this! All I smell is witch hazel. It's an $85 bottle of spray witch hazel! I have seen no dewiness, no plumping, no firming. Additionally, the spray itself should be a fine mist- this is a clumpy spray that needs spreading with your hands. SO disappointed.
brightening & soothing, but not moisturizing enough
Smells like a garland of flowers & a pleasure to use. I do have to say that it isn't as moisturizing on the skin though, and I could tell when I replaced my usual serum with it. It could work if it's paired with the brand's Facial Oil as I'm sure it's intended to be used, but since the golden color of the brand oil doesn't match well with my skin tone, I'm using other moisturizer/blue oils instead. As a serum alone this is more watery than gel-like and does well being layered beneath my usual serum (i.e. does not impede the penetration of other products on top), as a replacement for my toner (like, the best toner anyone can ever ask for haha) with amazing brightening effects. Will likely repurchase!
In love!
I'm a film MU artist and we love this serum to revive makeup on our performers midday! Plumps and hydrates and skin and gives a beautiful glow to the skin. This is a must have!